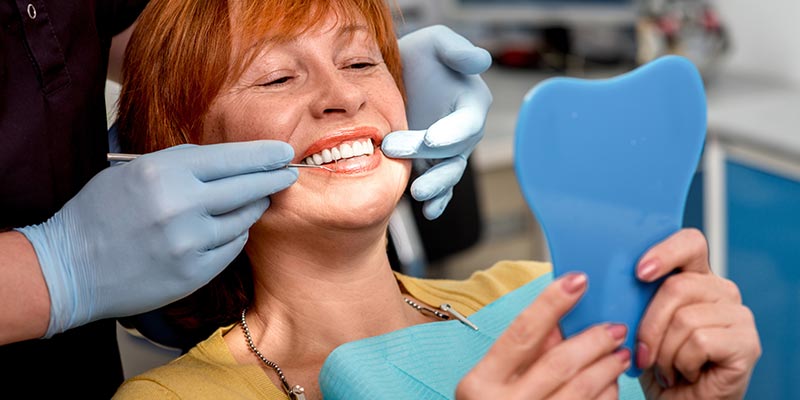 Complete dentures are created by taking molds of your mouth's existing lower and upper arches. This impression is sent to a dental lab. Then, your dentist will help you to select the shape and color of your teeth and gums—best matching your unique shade. In the final visits, your dentist can adjust your bite, test your speech, and check the appearance—and even the functionality—of your dentures. Once you and your dentist are satisfied with the final product, the dentures are sent off for fabrication.
Immediate Denture Treatments
Immediate dentures are dentures that are inserted immediately after your teeth are removed—often due to injury or decay. These allow you to maintain your current habits like chewing and speech. The procedure is the same as other dentures. Molds of your upper and lower arches are taken, and colors are selected, and then impressions are sent to the laboratory. Your dentist will adjust your bite, test your speech, and make sure the dentures work and look great. Once the denture is fabricated, your remaining teeth are then extracted, and the dentures are delivered.
Partial dentures are dentures for people who have lost part of their teeth, and require a supplemental device for eating and speaking. First your natural teeth are prepared, because they will be used as support for your partial denture. Then molds are taken of your lower and upper arches. After tests to evaluate your speech, bite, and the appearance and functionality, the partial dentures are sent off for fabrication. There are new advances in partial implant technology. First there are implant-supporting partial dentures. These use implants inside the mouth for additional support. Other options include a valplast partial denture. Valplast partial dentures are more aesthetically pleasing to the eye, and does not use metal at its base—instead using hooks crafted from a special flexible plastic material.
Stayplates (Temporary Dentures)
Stayplates are temporary dentures that are used when you have a tooth pulled, yet haven't been able to get your partial denture. Stayplates assist while the gums and jawbone are healing from the tooth pulling. A stayplate can help with speaking and chewing until a more permanent solution is administered. More importantly, a stayplate keeps your teeth in place, instead of having them shift after your teeth pulling—creating bigger problems.
Complications from Any Denture
You will likely need a short time to get used to your dentures or stayplate, but there's no such thing as a perfect denture—and dentures often need adjusting. It will take some time for you to adapt to your new eating and speaking habits. Lower dentures are often harder to keep in your mouth than upper dentures. If you are awaiting tooth extraction, though your dentures will have been made with care, after extraction, your gums will continue to shrink and heal for a period of 6 months. During this time, your dentures will need to be realigned and readjusted to fit correctly.